experiential space
spatial experience
ARCHITECTURE GALA
Stage design for the 2020 gala
Honoured to have been commissioned by Sveriges Arkitekter (Architects Sweden) to work on the stage design for the 2020 Architecture Gala. So looking forward to working with this wonderful team in this amazing space at Konserthuset (Stockholm Concert Hall) where the Nobel Prize Award Ceremony has been held since 1926!
VÄSTERÅS KONSTMUSEUM
Art installation for Väva Fläta Fästa
This textile exhibition "Weave Braid Attach – Textile Pioneers and Contemporary Expressions bring together artists who work with the textile as material, medium and idea. The exhibition places different generations next to each other, textile pioneers from the mid-1900s are shown in dialogue with contemporary art. Västerås Art Museum has invited Marcia to exhibit her loom installation "Dialogue", an interactive piece that examines loom design and architecture as well as how different cultures have chosen to approach it. By using a warp to connect a classic Glimåkra pulley loom with a custom-built West African-style drag-stone loom, the ancient world-wide weaving tradition is highlighted.
Showing 18-26 January 2020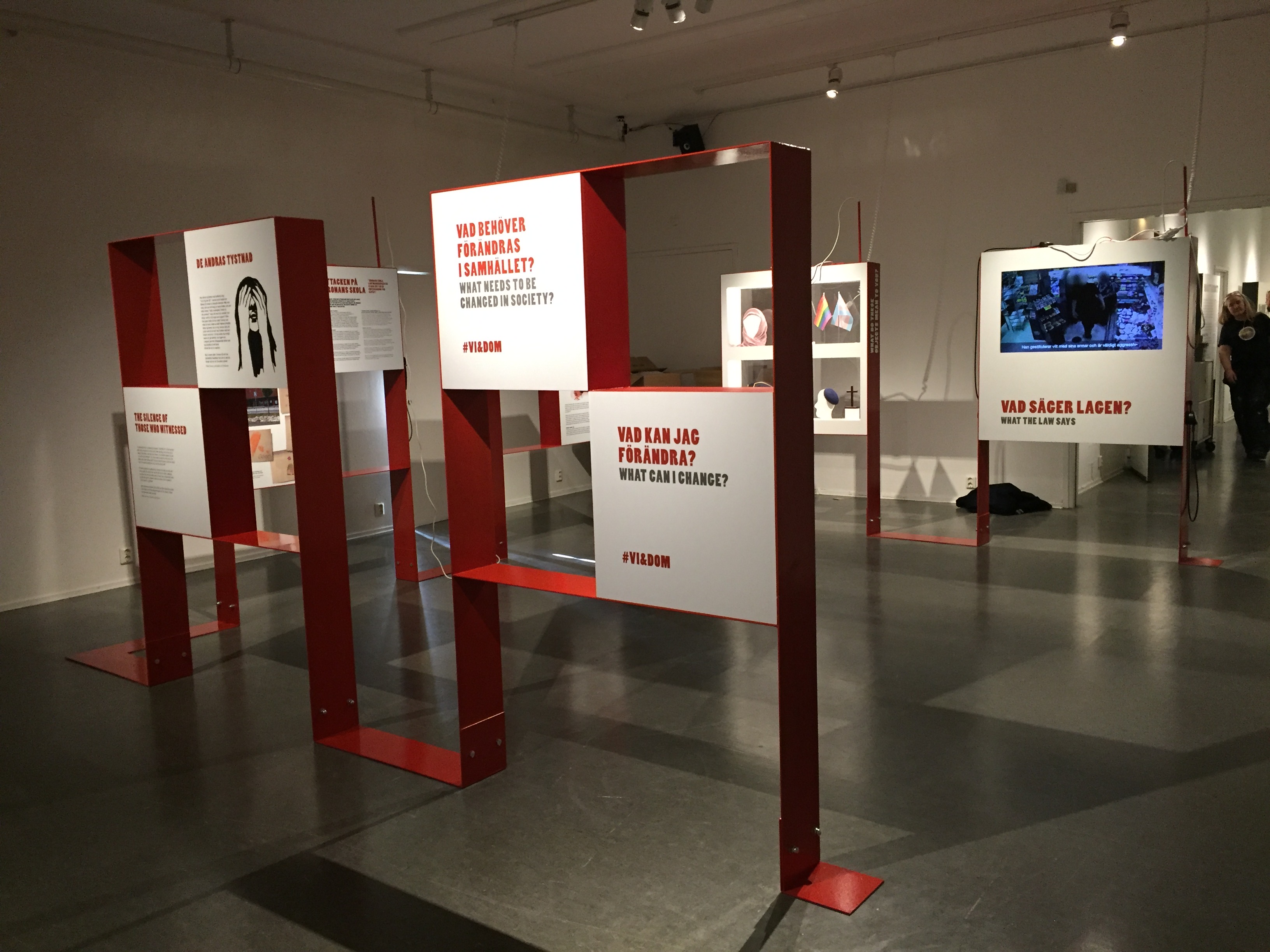 VI & DOM
Travelling exhibition for Polismuseet
Three years after designing the on-site exhibition Vi & Dom, en exhibition about hate crime, sqCircle was once again commissioned to design a version that could travel around the country. The first stop was Regionmuseet Kristianstad in February 2019 and now the next stop is Göteborgs Stadsmuseet opening on 23 October 2019.
(The photo shows the exhibition under construction in Kristianstad)
ARKITEKTEN
Featured in the lastest issue of "Arkitekten"
Arkitekten is the branch magazine for the Swedish Association of Architects. In the February 2019 issue Marcia, founder of sqCircle is featured in a portrait centered around her work as an exhibition designer and interior architect. The article can be read here .
Do you need help with your project?