experiential space
spatial experience
FAMILY ARKDES
A space for to meet, engage and relax
sqCircle was commissioned, together with Asli Abdulrahman Ali to redesign Family ArkDes, a space within ArkDes dedicated to play and relaxation for all. We have drawn our inspiration from vernacular architecture's soft round shapes and tactile materiality. Our aim has been to create a welcoming and inclusive environment for the whole family, that encourages exploration, relaxation and conversation.
There are two main elements in the space: the Hilly Hangout, a carpet-covered terraced structure that gradually ascends into the far corner of the room, giving the visitor a lofty perch from which to enjoy the outstanding view outside; and the Hideouts, a group of shelters inspired by clay huts, yurts and igloos, perfect for a quiet moment away from the crowd. To accentuate the generous ceiling height, oversized hand-crafted talismans hang over the space, bringing good karma and catching the light with their reflective materials.
Kneaded clay plays an important role in the details, bringing the presence of the human hand into the space and connecting to the millennia old tradition of crafting with clay. A workshop to create clay-covered stools will by held with some of the youngsters who have Fisksätra Folkets Hus as their favourite hangout.
We have chosen to work with textiles as our main material, from the plush carpet of the Hilly Hangout, to the padded walls of the Hideouts, to the soft furnishings with different fillings, to the reflective fabrics of the talismans – the tactility of the spatial experience has been our design focus. We hope people will enjoy engaging with the space.
Photo credit: James Taylor Foster/ArkDes
NKs FRANSKA
Exhibition design about the couture house NKs Franska
Nordiska Museet in collaboration with fashion journalist, Susanna Strömquist is planning a large exhibition about the couture house NKs Franska, that exsisted between 1902 and 1966 within the department store, Nordiska Kompaniet. The exhibition will be full of fabulous fashion creations from Paris and original designs from NKs Franska. Focus will also be brought to the people behind the scenes: the tailors, seamstresses, embroiderers. sqCircle has been commissioned to design the exhibition, which should open in September 2021.
Photo credit: Erik Holmén/Nordiska Museet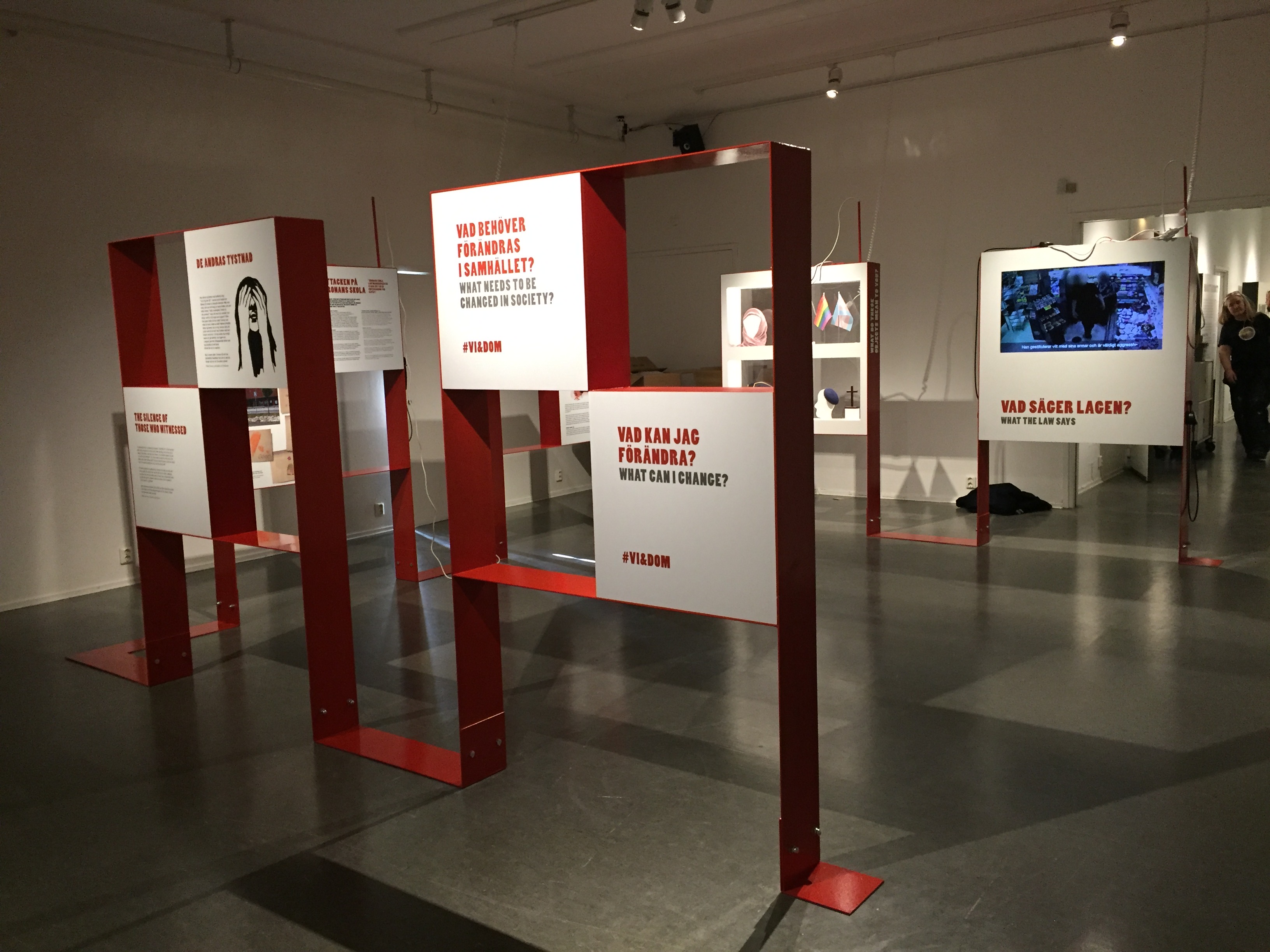 VI & DOM
Travelling exhibition for Polismuseet
After stopping at Regionmuseet Kristianstad in February 2019, Göteborgs Stadsmuseet in October 2019, and Försvarsmuseum Boden in September 2020, the next stop is Malmö Museer  from June 2021. Five years after designing the on-site exhibition Vi & Dom at Polismuseet in Stockholm, en exhibition about hate crime, sqCircle has once again been commissioned to adapt the travelling exhibition for Malmö Museer's space.
(The photo shows the exhibition under construction in Kristianstad)
Do you need help with your project?